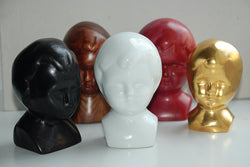 Dukkehode
Disse skulpturene er en del av utstillingen "SHE"
10 cm høye
Marianne Heske har bedt kunstnere og håndverkere over hele verden lage avstøpninger av det originale hodet hun skapte etter å ha funnet et antikvarisk dukkehode på et Paris-loppemarked på 70-tallet. Hun ønsket en avstøpning i materiale typisk for deres kultur og land. Tilbake fikk hun hoder i edle tresorter så vel som blikkboksstrimler fra Kenya, smykkesteiner fra Zimbabwe, marmor fra Agra i India, krystall fra Norge og porselen fra Kina.
Selger: Marianne Heske
Kontakt:  hello@oslonowhere.com
INQUIRY
The framing is important for the experience of the art - therefore we are happy to help you. If you live in Oslo or the surrounding area, you can order the picture completely framed. We work with a Norwegian champion in framing who uses materials of the highest quality to ensure that your photos are exactly the way you want them.
Choose between standard glass or anti-reflective glass (AR / UV70). Anti-reflective glass has 70% UV protection and protects the artwork better than ordinary glass and is also non-reflective, which is especially an advantage if the image is to be hung somewhere with direct light.
OsloNowhere works to connect art collectors and artists, and as an intermediary between you and the artist. Our goal is to make the transaction as smooth as possible for both parties. We recieve your payment and delivery information, issue a reciept and recieve any returns on behalf of the artist, to make things easy for everyone.