Magnus Gjøen
I THOUGHT WE'D MEET ONLY IN DEATH
* Framed works are picked up in central Oslo.
70 x 70 cm
Magnus' work explores how one can change people's relationships and preconceived notions about objects. Something that is potentially very destructive can be turned into something beautiful and fragile.

It is this misconception of beauty that Magnus wants the audience to see, whether it concerns weapons, animals or humans. Humans have the ability to create something beautiful, but are also capable of great destruction. He draws inspiration from street and pop art and puts it in context with fine art. Magnus creates new and modern expressions of old masterpieces, or manipulates something powerful into something fragile and beautiful. 
Circulation: 80, pignored by the artist. Includes 5% art fee 
Material use: Archival pigment inks and silk-screen varnish on 305 GSM cotton rag paper.
Seller: Magnus Gjøen
The framing is important for the experience of the art - therefore we are happy to help you. If you live in Oslo or the surrounding area, you can order the picture completely framed. We work with a Norwegian champion in framing who uses materials of the highest quality to ensure that your photos are exactly the way you want them.
Choose between standard glass or anti-reflective glass (AR / UV70). Anti-reflective glass has 70% UV protection and protects the artwork better than ordinary glass and is also non-reflective, which is especially an advantage if the image is to be hung somewhere with direct light.
OsloNowhere works to connect art collectors and artists, and as an intermediary between you and the artist. Our goal is to make the transaction as smooth as possible for both parties. We recieve your payment and delivery information, issue a reciept and recieve any returns on behalf of the artist, to make things easy for everyone.
Vil du legge til en ramme?
Viktig: Rammer må hentes i vår butikk, de kan dessverre ikke sendes
Uten ramme
GO TO CART
Ramme Sort - Standard glass
Ramme Sort - ART glass
Ramme Eik - Standard glass
Ramme Hvit - Standard glass
Ramme Hvit - ART glass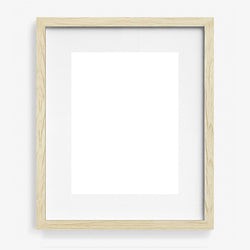 Ramme Eik - ART glass